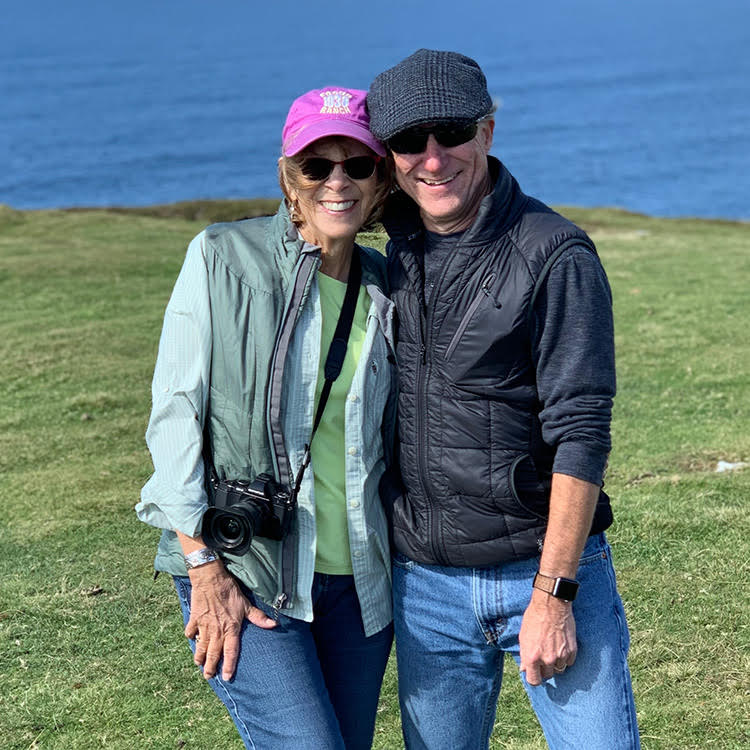 Karen & Joel Schulman
---
Email Address
Website
About Karen & Joel
Karen and Joel have been working in the photographic field for over 40 years and are both accomplished professional photographers. Karen is a skilled and sensitive photographic artist and educator and during our tour will share ideas and knowledge to help you create great travel photographs, whether you are using a DSLR or an iPhone!
Joel is an expert in the digital imaging world and has done photographic printing for some of the most notable names in fine art photography. He will share his knowledge of both the technical and creative aspects of the photographic medium. In addition, Karen and Joel will offer visual presentations and discussions highlighting the development of personal vision and awareness, and show how light, color, composition, gesture and 'the moment' contribute to the success of a photograph.
There will also be opportunities to have photo reviews of your images, so everyone can learn and share from each other, or private photo reviews can be arranged.
Both Karen and Joel are passionate iPhoneographers and during your tour will offer optional creative iPhoneography instruction. Our goal is to make this tour enjoyable and fun for both serious and casual photographers! From Karen: "I encourage each person to give themselves permission to make mistakes, permission to create. The more we learn to 'see' with our mind, heart and spirit, the more of an adventure life becomes."If you wish to review Karen's work or contact her:
View Karen's Online Fine Art Gallery: www.photographicsart.com/karen-g-schulman-fine-art-prints
Karen & Joel's Upcoming Tours
I had the most wonderful trip (Magical Morocco) of my lifetime. It was fabulous. Karen is an inspiring and gifted teacher and your local guide is amazing. His knowledge and wisdom and heart cannot be overstated. Thank you for planning this fabulous experience. I'm definitely a Strabo fan.
— Jan Wetzel
Karen, Joel & Connie are the best! Always helpful and informative. Connie is a fantastic Irish guide but also a wonderful musician and friend to all. I would travel almost anywhere the Schulman's go!
— J. Klenk
What a fabulous balance of our presence as well as great instructional knowledge. Karen and Joel attention to detail was beyond all expectations. Best Trip!!! Amazing countryside and meeting a 'new family'. Tapping in to creative spriit, thinking outside the box.
— T and J Kelleway
What a wonderful Ireland trip we had. Thanks for everything you did to make it possible and so enjoyable. Given how much fun we had and how delighted we were with the trip, we have just one suggestion to add more leisure time in villages. It and all the guides were 10 out of 10. Everyone was a wonderful help. The relationships we forged, particularly with Karen & Joel was the highlight.
— C Potyen
I'd like to add my thanks: to my photo leaders, for teaching me new skills and boosting my confidence, to Leonel for sharing your abundant knowledge of and love for your country, to Jacque for flawless (yes, flawless!) organization of the trip, and to all of my new friends, for welcoming me into your lives to share this adventure. This trip was fabulous. The photo opportunities were everywhere.I learned a great deal about photography and the country. The travel arrangements were flawless.
— B. Baron
Hello Friends, I arrived home at midnight on Saturday with all of my countless photos, aged rum, colorful souvenirs, and fabulous memories safe and sound! It was a spectacular trip back to Cuba to see much more than I had seen six years ago. My countless thanks to the photo leaders, local guide, and Strabo Tours for all of the photo expertise, technical assistance, cultural information, and great planning.
— M. Welland
Karen, thank you for everything.  As I have said before, you are the most generous photographer I have met with your dedication and desire to share information.
— B Carpenter
The Cuba trip was absolutely amazing!!!  Joel and Karen did a great job of balancing our interests with those of the more serious, photographers in our group.  The entire trip was very relaxed, with just the right balance of structure, sightseeing, and socializing.  The entire group got along very well, and our guide, Leonel was a tremendous resource!  Our driver, Jose, could not have been better. 
— T. Schwall
Cuba was a wonderful experience that was much enriched by Strabo Tours.  I was stunned by the amount of photographs to be made:  people, architecture, close ups, horticulture, and, of course, the cars from the 40's and 50's that were everywhere. It was definitely a wonderful experience.
— Marilyn
An outstanding trip that takes you back in time to a place filled with great music, colorful architecture, cars and a revolutionary spirit.
— Kathy
Many thanks to you both for helping us discover Cuba; it was such a rich and exotic experience! We will enjoy the memories and the photos for many years to come. 
— Lana and Joe
Strabo's trip to Cuba will be one you will never forget. There are photo ops galore. While Cuba may be economically deprived, it is culturally rich.
— Janice
This was an excellent, stimulating experience. Karen is great, your local guide was patient, & knowledgeable. Very personable, I would gladly use him again.
— J.Turner
I think I learned the most on any photo trip I have been on (Ireland). I never knew anything about the iPhone photo apps!…I also wanted to thank you for allowing me to work within my physical limitations. I hope to join you on another trip! Karen was very knowledgeable regarding Photography, very patient and willng to teach and inspire. Your local guide was very knowlegeable, very willing to explain the history and culture. They both get a 10 out of 10. The trip was wonderful!!!
— ME Feeney
It was a wonderful trip and worth the travel time!!! It's always a pleasure to have Karen as a leader. She definitely is committed to teaching and reviewing work. Some people don't want that and somtimes events conspire to make it hard to get the work prepared for reviews, but better by far that Karen is ready and eager to do that for those who wish to take advantage of her knowledge.
— Jonathan Langsner
I went on the trip to Bhutan expecting to watch my wife, the avid photographer, take pictures while I enjoyed touring and learning about an exotic land and people. In truth, it was successful at that level, a rich cultural experience. I was caught by surprise, however, at how much Karen taught me about photography, largely using my iPhone. The root of it was Karen's ability to encourage and inspire, while also providing feedback and constructive advice. I left for Bhutan uninterested in photography. I returned passionately dedicated to becoming a photographer. It certainly has changed how I see. In fact, I believe it has changed my life. I look forward to taking future trips with Karen. 
— Joe Turner
I have good things to say about every aspect of the trip for which Strabo was responsible. Karen is to be congratulated on her enthusiasm for the country and her passion for sharing her photographic knowledge and skill with the participants. She was always up for a photo evaluation session or some iPhone photography instruction. I would certainly recommend a Schulman-led tour to other photographers.
— J.Langsner
It is so wonderful to be able to go to such a location for the soul purpose of photography.  The easy and spontaneous adventure that this was makes me want to go on another Focus Adventure Tour.  I was skeptical of the "iPhoneography" lesson but I participated and I can say that maybe it has truly changed my life.  My creativity was certainly heightened and encouraged on this trip.  I am so glad I went.
— S.Sparks
Your leadership and the person that you are is very special and rare… Thanks for helping ignite my inspiration, Karen!
— Terry Osman
I have worked with Karen for 10 years with great results. She has been an inspiring teacher and mentor. I would recommend her to anyone wanting to develop their creativity.
— Terry Riley
Karen was certainly the highlight. I learned more from her on this trip than on all of the others I have attended. Ismail was also wonderful, a true gentleman and wonderful guide.This was the most congenial group that I have ever been with, it was a wonderful tour.
Karen gave me inspiration to actually do something with my work. When you work with Karen, she passes on the feeling that she really does care about helping you. She was really so much fun too. Love Her!
— Patty MacInnis
It was a delight to be on the trip with you and to "resonate" on photography, etc. Your range of photographic techniques and tools is quite amazing!  Your images are so redolent with your personality and life spirit.
— Jim Robbins
I really enjoyed meeting and photographing the glories of the Emerald Isle with all of you. My sincere and special thanks to Karen for all of the photo information….and to Olcan for such a beautiful introduction to his spectacular corner of the world.
— Mei Chen Welland
Karen is terrific – always engaged, always available, great energy, great sense of humor. She has an amazing ability to get people through photo/camera gear crises when they occur. Makes things glow smoothly even over the rough spots. She's diplomatic but not condescending, encouraging and enthusiastic. Altogether a terrific leader and instructor.
— J. Tillinger
Karen is a wonderful person with an amazing amount of info regarding photography. It was a joy to be with her.
— C. Hirschfeld
I had the most wonderful trip of my lifetime. It was fabulous. Karen is an inspiring and gifted teacher and your local guide is amazing. His knowledge and wisdom and heart cannot be overstated. Thank you for planning this fabulous experience. I'm definitely a Strabo fan.
— J. Wetzel
Karen is inspiring. She works hard and provides plenty of individual attention. She is an excellent teacher. Your local guides are wonderful people and very professional and helpful.
— S. Connors
I always learn so much from Karen, not only photography but new view on life itself. Instruction amount was about right, and Karen makes it known that she is always available for more. We could not have asked for a better guide. She took care of everything before we could even ask.
— K. Cochran
Pam & I agree that this vacation was the best we have ever done. We found all the people and experiences far exceeded our wildest expectations. We had a super group of fellow travelers. I thought Karen did a great job both as a photo instructor and a champion to bring our group together. Because of our superior experience we plan to join Karen in Ireland next summer. Jacque is a fantastic person to work with. She kept us up to date on all our travel plans. We look forward to working her in the future!!
— P & B Roemmich